Public Presentation - Monitoring system for communicable respiratory diseases
"The presentation and discussion of the document Monitoring Systems for Communicable Respiratory Diseases is tomorrow, 17 Nov., 18h-20h, at Reitoria da Univ. Nova de Lisboa, with Zoom transmission. The document will be presented by Joana G. Sá, from the LIP SPAC group."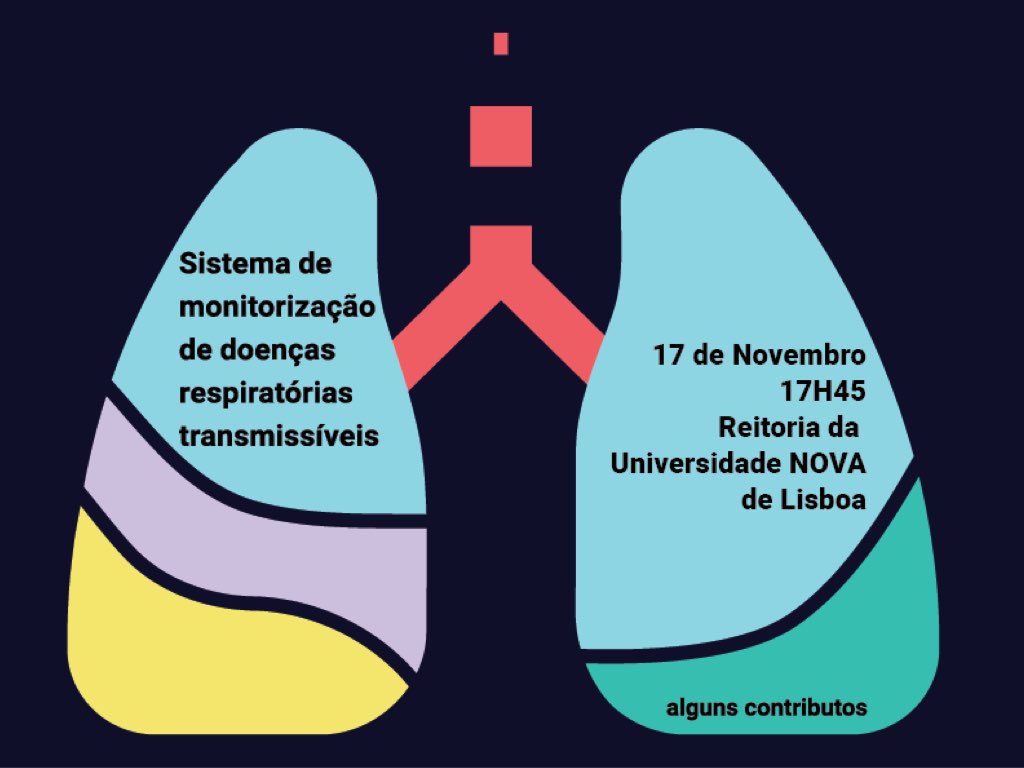 This document aims to contribute to the implementation of a comprehensive surveillance system for respiratory diseases of viral origin, with great emphasis on information systems.
The session programme includes an initial presentation by Joana Gonçalves-Sá, coordinator of the SPAC (Social Physics and Complexity) group at LIP (Laboratory for Instrumentation and Experimental Particle Physics) followed by two brief round tables to discuss the proposals and the challenges involved.
The document was prepared with the participation of experts from different areas in the scope of project DSAIPA/AI/0087/2018 - Identifying and Predicting Emergency Admissions, funded by FCT. The workshop "Surveillance Systems for Respiratory Diseases", which was at its origin, took place on 2-3 June 2022, at Nova SBE, with the participation of Maria João Amorim (IGC & CBR FM-UCP), João Ferreira (SPMS), João Franco (HGO), Rafael Franco (SPMS), Joana Gonçalves-Sá (SPAC LIP), Raquel Guiomar (INSA), João Leal (CUF), Francisca Leite (Luz Saúde), Carlota Louro (UNL), Bruno Martins (IST), Céu Mateus (Lancaster University, UK), Sara Mesquita (SPAC LIP), Micaela Monteiro (CUF), Telmo Nunes (FMV), André Peralta Santos (ENSP), Lília Perfeito (SPAC LIP), Ana Paula Rodrigues (INSA), Rita Saraiva (SPAC LIP), Nuno André Silva (Luz Saúde) and Irma Varela-Lasheras (SPAC LIP). The document was also commented and edited by Paulo Almeida (SPAC LIP), Ana I. Bento (Rockefeller Foundation & Indiana University, USA), Bernardo Gomes (FMUP), Pedro Pinto Leite (DGS), Pedro Pita Barros (Nova SBE) and Cláudia Soares (ISR IST).
Session programe and further info