LIP in the 2022 RNCA Meeting
"The Portuguese computing community met at LNEC, on 15 November, for the RNCA 2022 Meeting, taking place for the first time in a face-to-face format. Jorge Gomes and João Pina, from LIP, were invited to integrate the discussion sessions and panels."
It was ten o'clock in the morning. Guest after guest entered LNEC's small auditorium for the second meeting of the National Network for Advanced Computing (RNCA), taking place on 15 November. While fixing their badges and arranging the bags they'd received at registration, they chose their places so as to get the best view of the stage, which would be trodden by the most diverse faces of the Portuguese computing community.
Among them were two members of the LIP Computing group, representing the National Distributed Computing Infrastructure (INCD). The first to take the floor was Jorge Gomes, as he led a session on the acquisition of new RNCA resources, a partnership with INCD.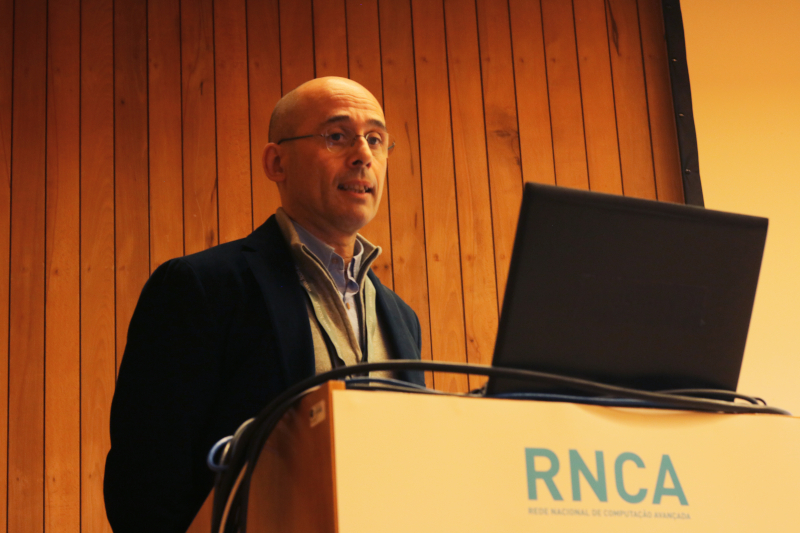 In Lisbon there was very recently an increase in computing capacity - High Performance Computing (HPC) and High Throughput Computing (HTC) -, as well as in storage, to better meet the needs of users. But the advances do not stop there: in Coimbra, new network equipment was acquired, long-term storage was increased and data protection was reinforced. A new INCD operational centre is also being planned at the University of Trás-os-Montes and Alto Douro, with new computing and storage equipment for HPC, HTC and cloud.
In the afternoon there were two round tables and. João Pina was part of the panel of guests at the session entitled "Chatting with the RNCA centres", which brought together experts from the competence centres to share experiences and challenges that still prevail, with a view to their resolution, to better serve the Portuguese computing community.